Brand interview : Interview with Luo Sanliang, Sales Director of Shenzhen Wonder Printing System Co., Ltd.
From Huayin Media's Global Corrugated Industry Magazine 2015
Plateless high-speed printing: a device that changes the way corrugated paper is printed
---Interview with Luo Sanliang, Sales Director of Shenzhen Wonder Environmental Printing Equipment Co., Ltd.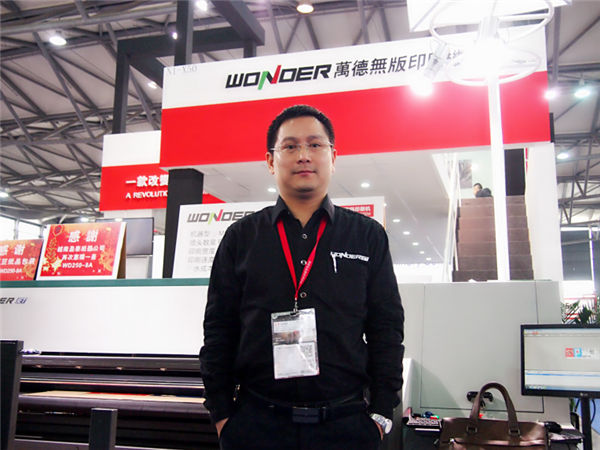 The process of interviewing Mr. Luo Sanliang was a bit of a twist.At the corrugated industry event in Shanghai in April, the author arranged an interview with Mr. Luo sanliang.Two days before the event, the author visited the booth of shenzhen Wonder many times and returned without success.The staff at wonder were so busy that they couldn't cope with the constant stream of spectators.In order to save trouble, the author no longer ran to the booth, he planned to make an appointment for a free time before interviewing. But Mr. Luo's mobile phone is always unreachable. This seems to be abnormal? As the company's sales leader, how could the author "slow down" the mobile phone during industry activities?
In the early morning of the third day, the author came to Wonder's booth again. He was lucky to catch a gap.As soon as they met, Mr. Luo made repeated apologies.He said:"I've been too busy to spare any time these days. Have you called? My phone has been hacked these days and I can't answer it."He said helplessly, "As the company grows bigger, it will inevitably encounter some improper means of competition, and now we really know what it means to be cold!"
The author started this episode because he really had a lot of feelings during his time with Shenzhen Wonder and Mr. Luo Sanliang.Such a hot customer attention is really rare. What excellent products of Shenzhen Wonder have attracted so many domestic and foreign audiences?What benefits can Wonder's products bring to the carton factory at this stage?What breakthrough tools can be provided for carton factories in trouble?Let's understand the surprises that Shenzhen Wonder brings to the carton industry through this exclusive interview with Mr. Luo Sanliang.
No longer stop at small orders, scattered orders, missed orders, the realization of mass production is the sign of advanced productivity
No version of digital printing which is not strange to everyone, mainly used for small orders, bulk orders, missed orders, generally is a small factory in use.For large manufacturers, the cost calculation of small orders is basically a money-losing business. If the utilization rate is not high after the equipment is purchased, the payback period of the equipment will be very long, so the large manufacturers have always rejected small orders in the past.Unless it is to accept a large order from a customer, the big factory will take the small order from this customer, so no version digital printer has always survived in the small factory.
Luo Sanliang analyzed, "With the rapid development of e-commerce in recent years, the demand for express packaging has exploded, small batch orders, more and more personalized orders, the drawbacks of large factories have slowly emerged, and small factories have gained advantages. The volume of the e-commerce packaging market cannot be ignored, which is a loss for large manufacturers, so now many large factories have also begun to introduce equipment to undertake more personalized orders.For example, Xiamen Hexing Packaging recently introduced the domestic first HP industrial digital printing machine FB10000, which officially opened the prelude to the digital printing field. "
However, the traditional printing speed of digital printing is slow, and mass production cannot be achieved. This is a drawback of it and the main reason why large manufacturers are not willing to introduce equipment."So, for many years, Shenzhen Wonder has been thinking about how to achieve high-speed printing without plates and mass production to solve this problem that has plagued the industry for many years.During the conversation, the author learned that Mr. Luo Sanliang had just returned from the exhibition in Munich, Germany.He said, "At a representative international exhibition in Germany, we can find that there are not many brands that make plateless printers in the world, especially less water-based inks, and foreign giants are more doing UV printing, including Hexing. The digital printing machine introduced by packaging is also UV printing. I only saw 2 manufacturers doing water-based printing on the spot.Not to mention domestically, there are some people who do plateless printing in China. Their technology is many years ago. It has been stagnant and can not provide products suitable for customers. Therefore, Shenzhen Wonder feels that the business he is doing is very meaningful and worth our efforts to advance. "
"Only after our repeated calls did she appear", after so many years of efforts, Wonder finally launched the WD200-24A / 36A environmentally friendly high-speed corrugated cardboard digital printing machine in 2014.Luo Sanliang said, "This product can be said to be the world's first, is a revolutionary equipment to change the corrugated printing method.Its feeding speed is up to 1.2 meters per second, which is comparable to the speed of traditional chain machines.With the advent of this equipment, carton manufacturers can confidently promise customers to deliver in a short time, and ensure the quality and high precision of printing."
It is understood that this product has been highly concerned by customers at home and abroad as soon as it is launched. Currently, 2 products have been sold and are being tested and commissioned.Luo Sanliang said, "Printless printing at first was really just to solve the customer's small batch orders, bulk orders, missing orders, but to this day, it finally ushered in revolutionary progress. After four years of R & D investment, Wonder This printing method can be adapted to the needs of customers in mass production. "
Luo Sanliang also told the author that this device has been exhibiting for two consecutive years, has not been sold and has been improving. Because the technology is relatively high-tech and belongs to the first, Wonder must make it very stable before it starts selling."I believe this demand will be great both overseas and domestically. I am very optimistic about its market prospects. Shenzhen Wonder is ready to become a pioneer in leading the industry's transformation."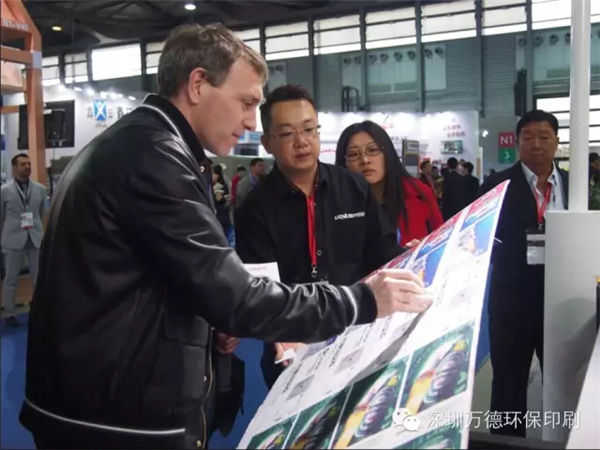 Overseas customers are very satisfied with the printing effect of Shenzhen Wonder equipment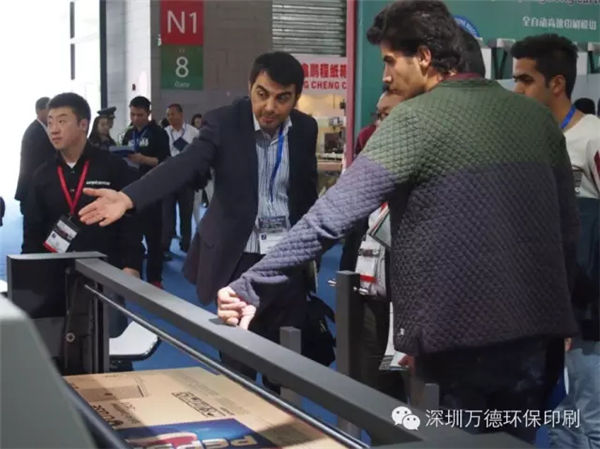 Many overseas customers stop to watch Shenzhen Wonder's plateless digital printing machine
High efficiency, environmental protection, energy saving, labor saving, Plateless high-speed printing machine suitable for all carton factories
Wonder's customer base for plateless digital printing is very wide, regardless of large and small factories.Luo Sanliang said, "Wonder's customer group positioning includes first-level factories, second-level factories, third-level factories, and even some self-employed, workshop-style manufacturers who have just entered the industry can also use our equipment.Because the investment is low and the floor space is small, a facade room of 40 to 50 square meters is enough,the equipment only needs one person to operate which can saving labor; and the operation is also very power-saving, about 2 kWh per hour; There is no need for cleaning, and no ink is wasted. "
Shenzhen Wonder's products have a very clear positioning from the beginning of the design, that is, the products must be exported. Therefore, in terms of spare parts, Wonder 's products are very quality-oriented and are basically imported. "Although Wonder is a localized brand, they are all manufactured according to European standards, because the ultimate goal of the Wonder brand is to reach a world-class level." Luo Sanliang said.
During the interview, the author found that overseas customers who visited Shenzhen Wonder booth accounted for a large proportion. Does this mean that overseas carton manufacturers are more concerned about the development prospects of plateless printing?
Luo Sanliang believes that both the foreign market and the domestic market are large, but for now, the attention and interest of foreign customers for this equipment is much higher than that of the domestic market. the reason is simple,in foreign countries, there are more orders for customization and small quantities, and they are expensive with high unit prices. We all know that Malaysia's furniture export packaging consumption is very large, one of the biggest customers in Malaysia - south liren carton packaging plant, a total of 10 wind non-plate printing machines.
Wonder also has a very special customer who specializes in packaging for Boeing in the United States. Boeing's designated supplier ordered a customized Wonder plateless printing machine. Because the thickness of the normal printing carton of Wonder equipment is 1-28mm, including honeycomb board, 3 layers, 5 layers and 7 layers of corrugated cardboard can be printed. The carton of Boeing is used as a packaging for aircraft maintenance tools,the requirements for the thickness of the carton are relatively high, so the thickness of the customized machine printing carton reaches 35mm.
Luo Sanliang said, "In the development process of foreign markets, our equipment was first sold in Germany. Several German customers have successfully installed online and are currently using.It can be said that the feedback from German distributors and cooperative customers to Wonder Machinery has greatly helped the improvement of Wonder equipment. As we all know, Germany's quality requirements are very high. Wonder's products can enter the German market, which also gives us confidence and motivation to continue innovation and development. "
Of course, the demand for plateless digital printing in the economically developed coastal areas of the mainland has also been rising in recent years. For example, Guangdong Heshan Lilian Paper Products Co., Ltd. has successively bought 7 Wonder equipment. "In the carton industry in Guangdong Province, Wonder is undoubtedly the leader in the market for plateless printing, reaching more than 90%." Luo Sanliang said.
Affordable equipment, can't afford ink? Water-based ink-free high-speed printing machine reduces costs by nearly 40 times
Luo Sanliang told the author, "Hexing Packaging, as a listed company, certainly has his strategic considerations in the operation of equipment, which represents the industry's new profit growth pole in the future. But as tens of millions of ordinary carton companies, it is difficult to ignore the cost Introduce equipment drastically. According to my understanding, the price of this equipment is more than 20 million, which belongs to UV printing. The cost of ink is very high, and the speed still needs to be improved. Therefore, the market development of such high-speed UV digital printing needs to For a long time. But we have to admit that its printing effect is very good, very beautiful, and can meet the personalized customer needs. "
At the scene, the author also saw that Shenzhen Wonder has recently launched a UV printer-WD250-UV digital printing press. "The digital plateless presses that Wonder has done before are all water-based printing, which is environmentally friendly and low in cost. However, it is inferior to traditional offset printing in certain colors. We are not satisfied with customers who are more discerning in color, so we developed UV printer. This UV printer is rich in color and very realistic. It is a machine customized for customers with personalized needs. "Luo Sanliang said.
The disadvantage of traditional UV printing is the high cost of ink, odor, and environmental protection. The cost of offset printing ink is nearly 40 times higher than that of water-based ink. In the current situation of low profit in the carton industry, the cost of ink is the core of the core, and has attracted widespread attention. Luo Sanliang said, "The so-called high-speed plateless printing machines in foreign countries are also UV printing, and the equipment cost is dozens of times higher than that of Wonder equipment. Of course, for some large factories, this investment is not a problem, but the cost of ink But it cannot be ignored. Many manufacturers often have the phenomenon that they can afford equipment and cannot use ink. Therefore, based on the matching of equipment and ink, including the cost of ink, Wonder has spent a lot of research and development, dedicated to Wonder. Ink and varnish have been loved and recognized by our customers. It has greatly reduced the cost of ink use, and really made it affordable and affordable for customers. "
When it comes to truly revolutionary innovations, it is the water-based ink-free high-speed printing machine developed by Wonder that is professionally used in the corrugated industry. Printing can be truly mass-produced. This is also the reason why Wonder's products are popular and customers have high acceptance.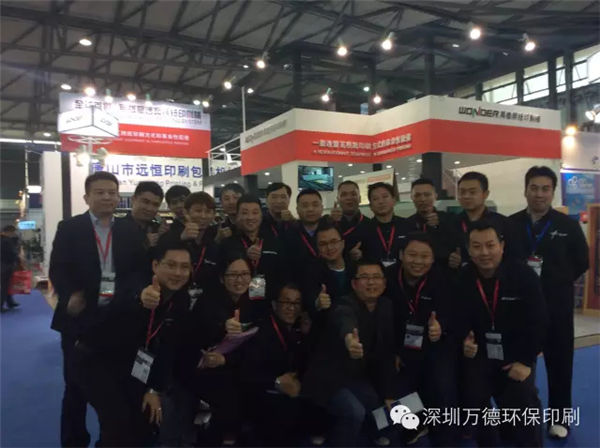 Shenzhen Wonder Elite Team
"We are a young brand, we have always created miracles" Bringing 16 years of mature digital printing technology to the corrugated industry
The core technology of plateless high-speed printing is the printing method and control system. Luo Sanliang said, "Shenzhen Wonder has been developing in the digital printing industry for nearly 16 years. Our technology is very mature. Now we take this mature Technology has been brought to the corrugated paper industry to help carton factories solve some of the current practical problems. "
It is understood that Shenzhen Wonder's first corrugated industry's versionless digital printing equipment came out in 2011. The process of innovation is very difficult. Wonder spent two years from product development to design, to production, to market, and then to normal sales. "Not only the process of R & D, production and promotion of equipment is very long, but even the ink of supporting equipment, we also spent 2 years because ink is also a core issue. The industry is very well matched and the cost is very low. " Luo Sanliang added.

In the corrugated industry, Shenzhen Wonder is a young brand, but with its focus on this industry, it has developed by leaps and bounds in recent years. From the advent of products in 2011 to the emergence of international exhibitions in 2013, Luo Sanliang said with emotion: "In 2013, we only had one product to exhibit; in 2014, we had 2 products to exhibit; but today, we brought 7 products. We are very pleased that after years of hard work, our R & D team has broken through many technical difficulties, and even carried out technical exchanges and cooperation with some foreign factories. Finally, we have the situation today. In the development of new products and the replacement of mature products, Wonder has never stopped. This process is very difficult, but it is also very fulfilling. "
Wonder can be said to be a dark horse in the corrugated industry, bringing brand-new products and printing methods to carton factory friends. At present, Wonder has established marketing and after-sales service networks in many provinces and cities across the country, including Europe, Africa, the Middle East, Russia, Oceania, South America, Latin America, and many other countries and regions in the world.
At the end of the interview, Luo Sanliang also shared a good news with the author: In February this year, Wonder set up a branch company in Malaysia-Malaysia Wonder Digital Environmental Protection Equipment Co., Ltd. He said that in the future, Wonder will also set up branches in more countries to provide services and assistance to carton factory customers in more countries.
Wan De's English is "wonder", translated into Chinese is "miracle". Luo Sanliang said, "Shenzhen Wonder is a young company. Shenzhen is a progressive and hardworking city. We hope to use this city as a starting point to continuously create miracles. Our goal is to maintain the brand of Wonder and let WonderBrand has gone global and developed more products suitable for customers and market needs, truly helping customers solve their difficulties in production. At the same time, we also hope that more peers will also progress together, communicate together, together Promote the continuous progress of corrugated printing methods. "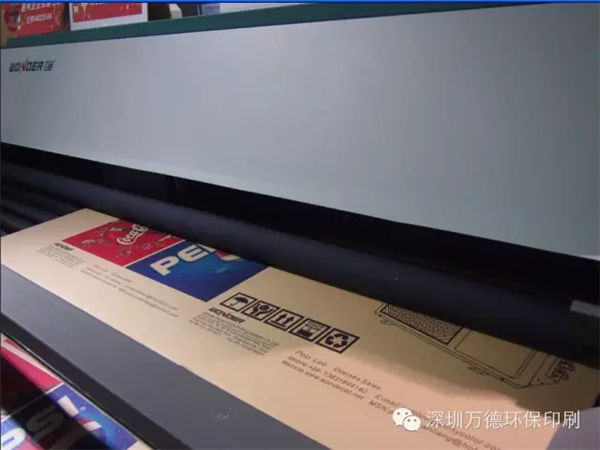 ---
Post time: Jan-08-2021